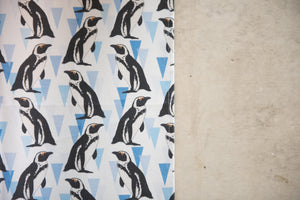 Are you looking for the perfect penguin fabric for your craft or home textile project? This African penguin fabric has been designed in our Sheffield studio using original screen print and digital designs, turning this little guy into a striking surface pattern design!
This fabric is pigment printed onto a cotton drill making it ideal for all sorts of projects. The fabric is beautifully soft and vibrant.
...
See the specifications below for more details about our fabrics:
Print Sizing:
Each African penguin stands approximately 6.5cm tall by 4.5cm wide.
Washing and Care Instructions:
Due to the pigment print process it is recommended that this fabric is washed at 30 degrees. Fabric can be ironed on a medium heat.
Ideal For:
With the care instructions in mind this fabric is perfect for craft projects, upholstery and interior textiles. It is not suitable for outdoor textiles projects.
Fabric Length:
Please use the drop down option to select your fabric length. If you require more than 3 meters please get in touch and we can arrange a larger order. Please also note that per half meter the RRP is £15 and per meter the RRP is £30 but orders for fabric above 1M in length receive a 5% discount which is already applied to the pricing displayed in the drop down menu.
Design protection:
Please note that our design are protected by law and that all fabric sold is for personal use only and not for resale. We do however LOVE seeing what you have made from our designs so please feel free to tag us in your posts on Instagram, Facebook and Twitter!