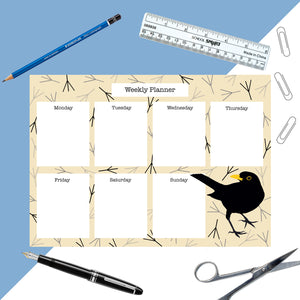 This is an A4 52 page weekly planner pad (with a blackbird design) which can be used as a calendar too, designed to get you and your family organised!
Whether you are looking to plan meals for the week, to write to do lists or to write jobs for each member of the family, these planner pads are ideal to get organised in a busy world! Simply tear off each page as it is finished.
As the weekly planner is not dated you can stop and start it whenever you life but it does have 52 pages so is ideal as a calendar pad too!
Specifications:
Size - A4
Pages - 52 pages (one for each week of the year!)
Print - Printed with a blackbird design, each page is the same and printed on one side.
Backing - Backed with grey board making it a great, durable weekly planner
Binding - Each page is glued across the top - just tear off when you are finished