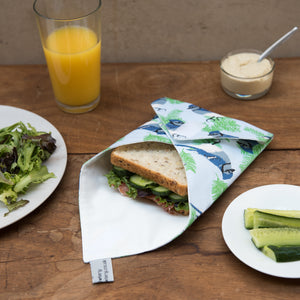 If you are looking to go plastic free and want to reduce your cling film consumption look no further - these wonderful sandwich wraps are the perfect addition to your lunchbox or for a summer picnic!
This design features our Blue Jay design.
Simply wrap your sandwich using our (approximately) 30cm wrap and use the velcro tabs to secure. This wrap is sized to fit standard size bread but the velcro table allow you to adjust the size of the wrap slightly to ensure you get a snug fit.
They are easy to clean, durable and you can rest safe in the knowledge that you are doing your bit for the environment.
Fastening: Velcro
Lining: Food Safe, waterproof textile
Outer Fabric: Printed cotton drill
Washing Instructions: Simple wipe clean or wash on 30 degrees. Do not tumble dry.