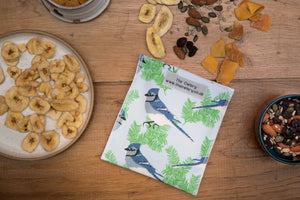 If you want to reduce your plastic consumption then look no further. Our snack bags are the perfect lunch box or picnic accessory in place of plastic food bags. Simply fill the snack bag with dried fruit, nuts, popcorn etc and pop it in your lunch bag. This means you can buy your snacks in bulk and be kind to the planet at the same time!
This design is our classic blue jay print design. It has a velcro opening and is overlocked down the side.
They are easy to clean, durable and you can rest safe in the knowledge that you are doing your bit for the environment.
Approximate size: 16 x 15cm
Fastening: Velcro
Lining: Food Safe, waterproof textile
Outer Fabric: Printed cotton drill
Washing Instructions: Simple wipe clean or wash on 30 degrees. Do not tumble dry.