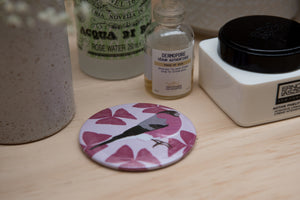 A perfect little pocket mirror for those emergency situations! Hair? Makeup? we have it covered with this hand little mirror!
Featuring the bullfinch design this little mirror is perfect for throwing in your pocket or bag for emergency situation when you are out and about.
They also make great little gifts for your loved ones (especially at Christmas as a little stocking filler!).
Each mirror is 76mm in diameter.
Each Mirror comes packaged.