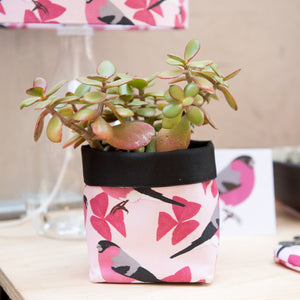 Bullfinch Print Textile Plant Pot - fabric pot - storage basket - storage - waterproof - herb - house warming gift - plant lover - succulent - container - house plant - plant pot
...
Brighten up your home with a new plant pot. Our Bullfinch print textile planters are perfect for adding a splash of colour and to hide those ugly plastic pots! Our plant post are perfect for house plants, succulents and cacti or herbs on the kitchen window.
Each pot is made from digitally printed cotton and lined with a waterproof fabric, perfect for catching stray drips.
These pots are the perfect accessory to add a pop of colour to your home, too gift to a plant fan or as a lovely housewarming gift!
Plant pots have a square base and measure approximately 10cm square. The height of each pot (without the turnover) is approximately 14cm and with the turnover is approximately 12cm.
Please note the print placement may vary slightly as each plant pot lining is cut from a different part of the fabric and the fabric.
...
How to use with cacti and succulents:
-Pop your cactus or succulent (in the plastic plant pot) into our custom printed textile plant pots
-when it's time to water (every 3-4 weeks) take the cactus or succulent out of the textile planter, water it and leave it to drain on the draining board
-when the excess water has drained off pop the cactus or succulent back in the pot.
How to use with plants needing water every few days:
-either follow the steps above or use a small plastic tray or dish in the bottom of the fabric plant pot and water your plant while it is in the planter.
Please note - the waterproof lining is designed to catch small drips. It is not designed for lots of water so it is recommended that your leave your plant to drain or use a small dish and try and avoid over watering.
Washing instructions:
If you need to clean your plant pot - wash at 30 degrees and iron on a medium heat.