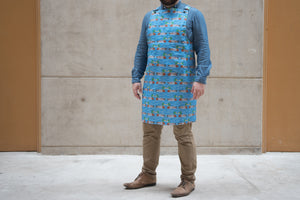 Are you looking for an apron for craft, baking or for every day workwear?

This duck print apron is part of a very special collaboration with The Stitch Society, an artisan workwear business based in Saltaire in West Yorkshire. This apron is made from 100% cotton in our custom duck print design with adjustable black strap and dungaree clips, ideal for adjusting for a perfect fit. The straps cross over at the back for a perfect fit. In addition all our artisan workwear aprons have our uniquely designed large front pocket for carrying all your bits and bobs.

Each apron is made with care and attention to detail, we are very proud of this collaboration with The Stitch Society and we are proud to offer commission apron in many of the other designs we have available in the shop as well.

If you see a different design that you would like as an apron that is not currently available on the shop please feel free to drop us a message. Commission aprons take around 2 weeks, all 'in stock' designs are typically dispatched in 3 days.

All of our aprons are washable at 30 degrees and can be ironed on a low-medium heat.