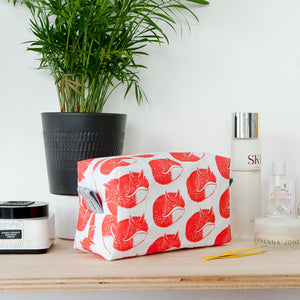 This was features our custom Fox print fabric and is ideal for cosmetics, make up, travel and stationary, making it a perfect gift for any loved one for birthdays, Christmas or to send them on their travels.
It has a zip opening across the top of the task bag and is lined with a light weight water resistant nylon fabric. It also has a pull tab on either side of the zip for ease of opening.
As this wash bag is made from cotton it is washable by hand at a cool temperature.
Outer fabric: Printed Cotton Drill
Lining Fabric: Water Resistant Nylon
...
Please note the print placement may differ slightly from the photo depending on where the fabric is cut from on the repeat design