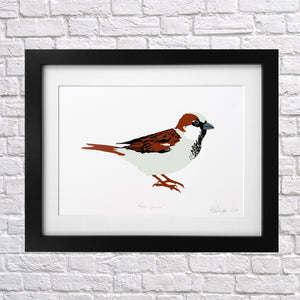 Part of a series of prints exploring the wonderful world of Birds. This is a 4 colour screen print of a House Sparrow in light grey, dark grey, black and brown. While a common sight in some parts of the UK this bird is endangered and has seen a significant decline in numbers in recent years.
Each print is hand drawn and exposed to a silk screen before being pulled by hand in Sheffield.
This print is A4 in size and is mounted in a 14" x 11" mount. Perfect for framing.
Each print is titled and signed with the date of printing.
This is an open edition of original screen prints but we usually print less than 100 in total.