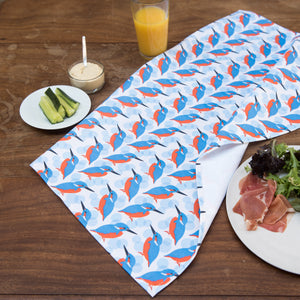 Jazz up your kitchen with a brand new Tea Towel in an exclusive and original surface pattern design.
Tea Towels are made from 100% cotton and hemmed on 4 sides. Each tea towel is screen printed in the UK with our signature original kingfisher print surface designs.
This design features our best selling Kingfisher print design, originally developed from a single screen print, which is accompanied by digitally designed blue water bubbles. Something a little different to dry the pots with!
Each design is hand finished in Sheffield with a kraft branding band around the middle and folded - it makes a perfect gift too!