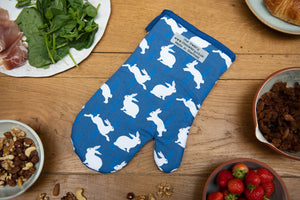 If you are looking for something to spruce up your kitchen then why not try a new oven mitt from our range of animal print textiles like these bold house sparrow print ones.
Oven mitts make the perfect new home gift for treasured friends or as a gift to yourself to add some contemporary textile design to you kitchen.
Each oven mitt is made from 100% cotton drill, printed and made in the UK with care and attention to detail. Printed on both sides, each mitt has a hanging loop and is padded throughout to ensure heat resistance and maximum security when handling hot goods.
Washing Instructions: Wash at 40 degrees.
Looking for a bundle? Add a tea towel to your order and save £2.
Please note that the placement of the print may differ from that shown.