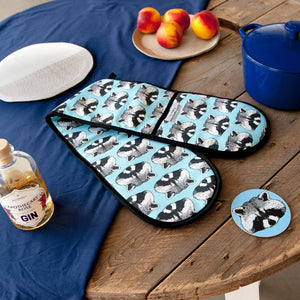 If you are looking for something to spruce up your kitchen then why not try some new oven gloves from our range of animal print textiles like these bold Raccoon print ones.
Oven gloves make the perfect new home gift for treasured friends or as a gift to yourself to add some contemporary textile design to you kitchen.
Each set of oven gloves is made from 100% cotton drill, printed and made in the UK with care and attention to detail. Printed on both sides, each set of gloves have a hanging loop and is padded throughout to ensure heat resistance and maximum security when handling hot goods.
Washing Instructions: Wash at 40 degrees.
Size: 85cm x 20cm