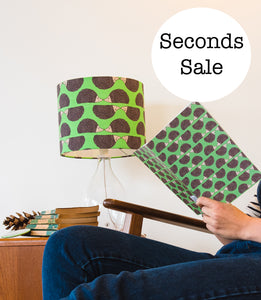 SALE: This item is a perfect item (not a slight second)

Custom printed textiles adorn beautifully made lampshades to transform your home with contemporary design. Each lampshade is handmade in Sheffield with custom printed cotton and lined with a heat proof lining.
This hedgehog design was made from an original lino cut print design with white lines in the background, perfect for a modern adult interior or a children's interior.
Lampshade rings used in the construction of each shade are universal and will fit all lamp based and ceiling fittings.
Size:
25cm Diameter (approximate height 21cm)