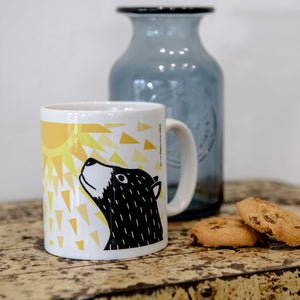 Looking for a gift for a teacher, friend or loved one? Mugs make great gifts all round.
This design features our best selling bear print with 2 colour patterned sun behind. The bear design appears at each side of the mug with the sun pattern across the top of the mug.
The perfect accompaniment to your morning tea or coffee. Whatever your preference we have the hardware covered!There is nothing more perfect than a drinking buddy!
Standard mug size - 92mm tall by 80mm diameter.